About Impact Investing in Nigeria
What Is Impact Investment?
Impact investment are investments made with the intention to generate positive, measurable social and environmental impact alongside a financial return.
According to GIIN, there are four key elements of impact investing:
Impact investments intentionally contribute to social and environmental solutions. This differentiates them from other strategies such as ESG investing, responsible Investing, and screening strategies.
Impact investment seeks a financial return on capital that can range from below market rate to risk-adjusted market rate. This distinguishes them from philanthropy. 
 Impact investments can be made across asset classes.
Engages with and is accountable to the collective of people and organisations making up the field– investors, foundations, entrepreneurs, service delivery organisations, intermediaries, policy makers and government – and its beneficiaries.
There has been a growing investor interest in Nigeria post-2015, with both debt and equity featuring prominently in impact investor strategies
Almost 70 impact investors invested USD 4.7B from 2015 to 2019, with USD 1.4B in 2018 – Key sectors such as agriculture, public-to-public lending, and energy totalling 56% of impact capital deployed in Nigeria

Further, from 2015-2019, DFIs mostly deployed debt investments (95% of transactions), while non-DFIs focused on equity (67% of transactions)
In 2020, Nigeria experienced an unstable macroeconomic environment from the COVID-19 pandemic and oil price pressures. Both factors have led to a recession and currency devaluation. 
However, the context puts a spotlight on social sectors and widespread inequality 
The outbreak created a new focus on boosting the country's sectors such as e-learning and healthcare system, with new investments in telehealth companies

Nigeria also experienced its largest protest in years – the End SARS movement. Thousands of Nigerians protested against police brutality and bad governance. The protests show that Nigerians are ready to address the country's corruption issues and create transparent systems, which may in turn, develop sustainable institutions to attract foreign investors
Impact Investment in Nigeria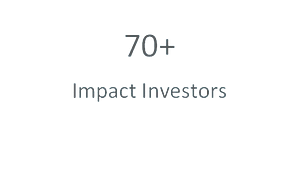 Further resources on Impact Investing
Would You Like To Join Us?
Please Click On The Button Below To Register